Boys & Girls Club Donation
In 2021, Windermere Real Estate/Sequim-East was pleased to donate $1500 to the Boys & Girls Clubs of the Olympic Peninsula through the Windermere Foundation. Every time a Windermere agent helps a client buy or sell a home, a portion of their commission is donated to the Windermere Foundation. In 2019, our local Boys & Girls Club served 1,258 youth members and 2,945 youth through their outreach programs. They kept their doors open throughout the COVID-19 pandemic, setting up Remote Learning Support Centers, providing free wifi, and delivering 54,000 free healthy meals to low-income families.
---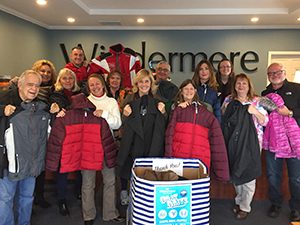 Windermere's Winter Coat Drive
415 coats were collected in October 2019 by Windermere Real Estate offices in Sequim and Port Angeles. The coats, along with a generous supply of hats, gloves and scarves, were donated to the Sequim Boys & Girls Club, Sequim Seventh Day Adventist Church's free clothing closet, and The Answer for Youth (TAFY). Thank you for helping us keep Clallam County warm!
From left to right: Dave Sharman, Dollie Sparks, Jody McLean, Alan Burwell, Marcee Medgin, Carol Dana, Michelle Gulka, Tyler Conkle, Cathy Reed, Kylie Walters, Jessica Warriner, Sheryl Payseno Burley, Rick Brown.
---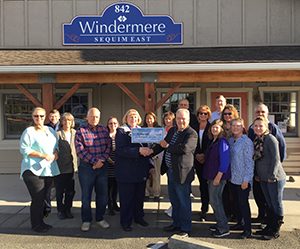 Operation Uplift
In observance of Breast Cancer Awareness Month in October, brokers with Windermere Real Estate in Port Angeles and Sequim presented a donation to Kristi Toth and Sandy Ruddell of Operation Uplift. This volunteer-run organization provides assistance to individuals dealing with a cancer diagnosis on the Olympic Peninsula. 100% of every donation goes back to the people in our community. Services include (but are not limited to) prostheses, compression sleeves, wigs, travel assistance, mammography, and activities. Their next Breast Health Clinic will be held in Sequim on October 15, 2016. To find out more about how you can contribute to this wonderful organization, or if you would like to get more information about services, call 360-457-5141 or go to operationuplift.org.
---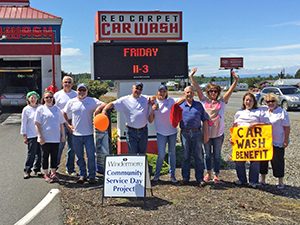 Windermere Community Service Day 2016
Windermere Real Estate brokers from the Sequim-East and Sunland offices demonstrated their attention to "Detail" for our Windermere Community Service Day on Friday, June 3, 2016. Thank you to Red Carpet Car Wash for helping us raise nearly $2,000 for the Sequim Boys and Girls Club, including funds for a new air hockey table for the kids.
---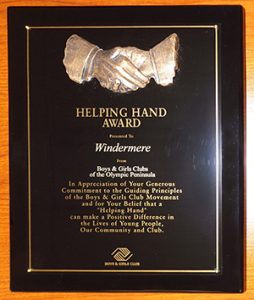 Boys & Girls Club: Helping Hand Award
The Boys & Girls Club of the Olympic Peninsula presented Windermere brokers with a "Helping Hand Award" for supporting the club which strives to make a positive difference in the lives of young people in our community.
---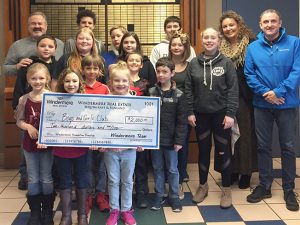 Windermere Donations help buy a new van
Alan Burwell (Designated Broker) and Dollie Sparks -(Broker/Director of Operations), on behalf of Windermere Real Estate's Sequim and Sunland offices, presented a $2000 donation to Unit Director Dave Miller at the Sequim Boys & Girls Club. Dave was joined by a number of happy B&G members on January 9th, 2019.
Windermere was approached by the club with an urgent need to assist in replacing a non-operating bus with a new 12-passenger van.
Janet Gray, the club's Resource Development Director, explained, "Our fleet of vehicles is aging. We transport elementary school youth to our Sequim and Port Angeles clubs after school and our transportation fleet is essential to both clubs."
Windermere has a long history of supporting the Boys & Girls Club. Dollie Sparks remarked, "This is such a great opportunity to give back to the community in a way that the kids will feel immediately."
The Boys & Girls Clubs of the Olympic Peninsula currently serve approximately 1,347 Clallam County youths ages 6-12 with after school programs and summer camps. Learn more about the club and how you can help by visiting their website at www.bgc-op.org.